1. Keep on the Safe Side of Life
When compared to circular saws, track saws boast numerous improvements on safety, but safety should still be your first consideration before you fire up your saw. As a rule, you should always stay to the side of the cut so that, if the saw kicks back, it won't launch itself toward you. Whenever possible, keep both hands on the saw. Of course, eye protection is essential, and our Ear Protection Options include many that will replace the noise with the music or podcast of your choice.
Track Saw Tip

Set the depth-of-cut so it only cuts through the material by a small amount. Excessive depth-of-cut only increases dust, wear-and-tear on the blade and demand on the motor. Also, minimizing the depth-of-cut will maximize the useful life of the sacrificial boards on your saw table or sawhorses.



2. Take Advantage of the Amazing Dust Collection Options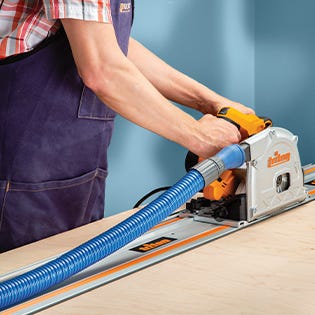 With their well-engineered dust ports, track saws are fully intended to be used in conjunction with a dust extractor. The near-zero dust level is one of the things that sets them head and shoulders above their circular saw cousins. Be sure to get a tool-triggered dust extractor, which automatically turns on when the saw is turned on. This way, there's no need to walk back and forth to the extractor, and you'll never skip it because you were in a hurry. Festool offers a full line of CT dust extractors in a range of sizes. If you're looking for something compact at a great price, but still featuring low noise and tool-triggered on/off, check out the Fein Turbo I Set.
3. Add Track Extensions to Expand Your Options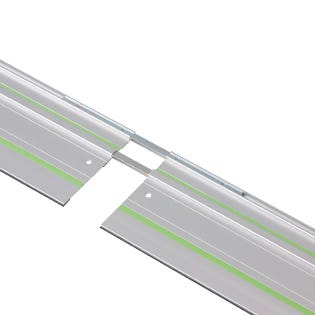 If you want to make long rip cuts along the length of an 8′ sheet, it's best to buy or build a track that will make the cut in one shot. A longer track will let you cut large parts for tall cabinets, and minimize scrap wood by optimizing your cut sequence according to your needs. Most manufacturers, including Makita, Festool and DeWalt, sell track extensions, along with corresponding track connectors. If space is not an issue, you can also purchase long lengths of track without a seam, providing the smoothest sliding and the assurance that the cut will remain straight no matter what.
Track Saw Tip

While cutting, you'll need to be sure the cord and hose don't get in your way, or snag on anything. A low-cost solution is to loop the cord and hose over your shoulder. If you want the smoothest solution, check out the Rockler Ceiling Track System. This system can be set up to suspend your cord and hose and guide it smoothly along the track. Plus, you can use it for numerous other applications.



4. Use Track Clamps for Shorter Cuts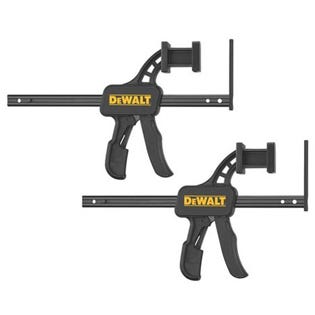 In many instances, your saw track will remain in place without any clamps at all. However, this approach relies on friction between the track and the material, meaning it works best for long cuts. For shorter cuts, be sure to use Track Saw Clamps to secure the track to your material. You'll get more accurate cuts, and much better stability as you guide the saw through the cut.
5. Get Your Projects Off the Ground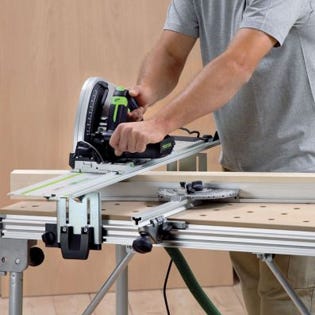 One of the big benefits of a track saw is that you can cut materials where they lie, either on horses or on the floor with sacrificial boards underneath. But when you're working in your shop, getting your work up onto a table will make things a lot more comfortable. Festool's line of MFT Multifunction Tables are very popular, and they fold up for compact storage. Kreg offers the ACS Project Table Kit, which folds up quickly, and also features large wheels for easy transport. These tables also accept numerous accessories to make crosscuts and angled cuts accurate and repeatable.
Track Saw Tip

An inexpensive option for a sacrificial work surface is a piece of rigid foam insulation, from 1″ to 2″ thick. It's lightweight, easy to cut into smaller pieces, and very flat. Thanks to its low cost, you don't have to worry much about kerfs criss-crossing the surface.



6. Let Your Router Ride the Rails Too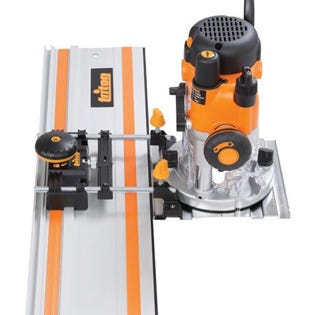 The same track that keeps your saw on the straight and narrow can also be used to guide your router for grooves, dados and other joinery cuts. Festool offers their Rail Guide for the OF 1400 Router, which lets the router run along the zero-clearance edge of the track for easy setups. Triton offers the TRTA001 Router Track Adapter and DeWalt offers the DWS5031 Tracksaw Router Adapter, both of which accept multiple different routers. Be sure to check that your particular router will fit.
7. Make it a Complete Cabinetmaking System with the Shelf Hole Guide Rail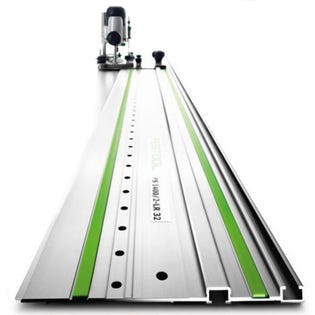 If you're thinking of buying a track extension or extra guide rail for your Festool track saw, consider buying a Shelf Hole Guide Rail. This allows you to use the track with your saw in the usual way, and also with your Festool router to drill shelf holes in a straight line, with perfect 32mm (Euro) spacing. The cost of the Shelf Hole Guide Rail is not much more than a standard guide rail, but you'll also need to purchase the Shelf Hole Drilling Set. With these tools in your quiver, you'll be able to build complete cabinets with adjustable shelving, and holes to accept hinges and drawer slides.
8. Fresh Splinterguards Keep Your Saw Cutting Clean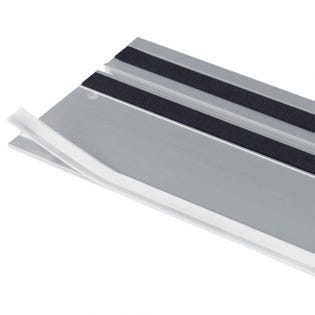 The clean cuts left by your track saw owe their thanks to the splinterguard along the track, and sometimes the right-side splinterguard on the saw itself. These splinterguards wear out gradually as the saw is used, so be sure to replace them once the level of tear-out becomes noticeable. It's always a good idea to keep a spare or two on hand in the event that the existing one is damaged suddenly.
Track Saw Tip

If you ever need to make a pristine cut and realize that your splinterguard is shot (and you don't have a spare), you can use masking tape in a pinch. Just lay it down over the length of the cut and press it firmly into place. But be sure to order some replacement splinterguards for next time. Considering how long they last, they are a great investment in time savings and convenience.



We're confident your new track saw will be everything it's cut out to be, and hope that this guide has helped you get more from it. Don't forget that we have expert staff in our stores, online and available by phone to help out if you have a question that's not answered here.
Click here to shop all Track Saws and Accessories