Blade Drift: When a band saw cut moves to the left or right uncontrollably as you advance the wood. Poor blade tension or a dull blade are the most common causes.
Blade Guide: A system of bearings (thrust bearings) or various styles of guide blocks, including ceramic, that hold the band saw blade in place as it spins. There is one blade guide above and one below the table.
Blade Guard: An adjustable shield that moves up and down to help cover the blade and prevent injuries from tooth exposure or blade breakage.
Blade Tension: Required for a band saw blade to work effectively. Band saws have a mechanism to increase or reduce tension.
Blade Tracking: Adjusting the position of the saw blade on the width of the upper and lower wheels so it spins in a single plane.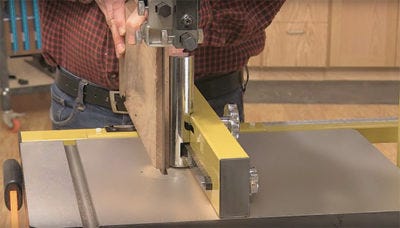 Point Fence: Rip fence addition that protrudes from the fence facing and aids in resawing, allowing boards to be steered left or right during cutting.
Table/Blade Insert: A removable plate that fits in the saw table with a slot that captures the band saw blade within it.
Throat Capacity: The measurement from the blade to the frame of the band saw. It sets the limit of how wide a cut you can make.
Tires: Rubber or urethane bands that tightly hug the flat rims of the upper and lower wheels and cushion the blade.
TPI: Number of saw teeth per inch on a band saw blade.
Wheel Diameter: The diameter of the upper (guide wheel) and lower (drive wheel). Band saws are categorized by wheel size: a saw with 14″-diameter wheels is considered a 14″ band saw.