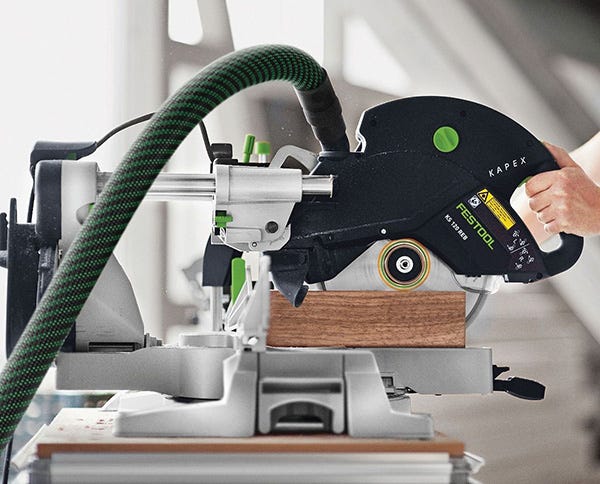 Miter saws or cutoff saw as some call them, are standard issue in most woodworking workshops. They are ultra-handy for many reasons, but not every miter saw is created equal. In this Rockler demo we take a closer look at the Festool Kapex Miter Saw. Many consider this the Cadillac of miter saws. Precision is the watchword of Festool products, and the Kapex miter saw represents that well.
Video: Take a Closer Look at the Festool Kapex KS120 Miter Saw
Kapex Miter Saw Features:
Effective dust extraction, precise cuts, easy adjustments, and quality components

Rail forward design creates a compact footprint while preventing head play for accurate cuts

Easily align cuts on the left or right with the dual lasers, which clearly define the kerf

Micro-adjustable bevel angle with up-front rotary knob

Large bevel scale and fine pointers make it easy to set precise angles

Dust extraction up to 91% with behind-the-cut dust hood and pivoting 36mm hose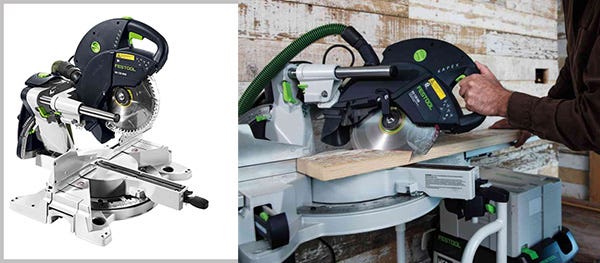 The Festool Miter Saw features a forward rail design that allows operation right up against a wall or in tight hallways, while the front-mounted bevel adjustment means you'll never to reach awkwardly behind the saw for the lock knob. The bevel adjustment is precisely counterbalanced, with smooth knob actuation so the saw won't suddenly fall to 45° under its own weight.
ENTER FOR YOUR CHANCE TO WIN A FESTOOL KAPEX MITER SAW
Enter 3/1/22 – 3/31/22