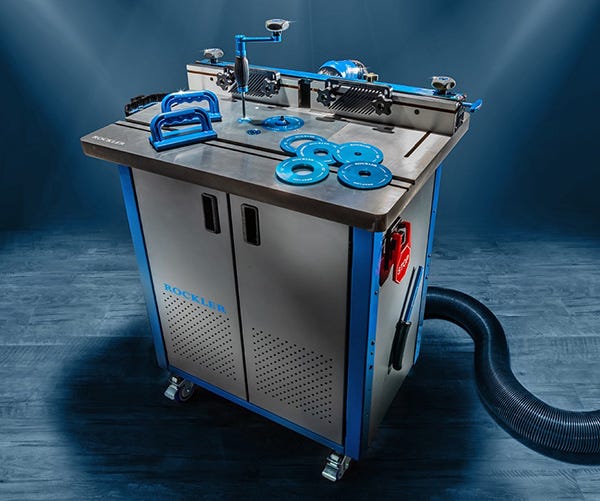 Router tables can be one of the hardest-working power tool systems in a woodworking shop. Depending on the types of projects you build, you can choose a small portable router table or a full-size router table, and you can add so many accessories to customize your router table to suit your woodworking projects. In this Rockler demo we'll show you how Rockler's product designers have rolled all of those quality features into our best router table package. The Cast Iron Router Table Master Kit with Cabinet and Pro Lift is the flagship of Rockler router tables!
VIDEO: Take a Tour of the Rockler Cast Iron Router Table Master Kit with Cabinet and Pro Lift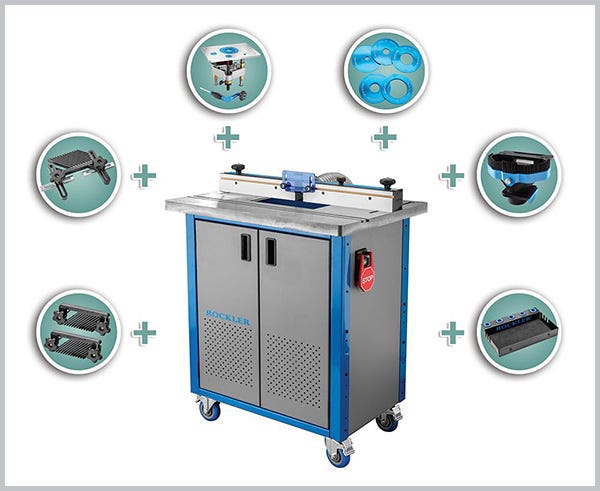 If you're looking for the ultimate router table, your search is over. The Cast Iron Router Table Master Kit outfits our premium cast iron top with the Pro Lift, which features Quick-Gear lifting action and Snap-Lock button-release insert rings, the ProMax Fence with microadjustability, jointer bars and top-mounted knobs for comfortable adjustments, and an open steel stand with a Dust Bucket for collecting shavings both above and below the table. In addition, we've thrown in an armload of awesome accessories to make your routing safer, cleaner and more accurate (see bottom for details). Rockler Traditional High-Speed Steel Ergonomic 5-piece Turning Tool Set.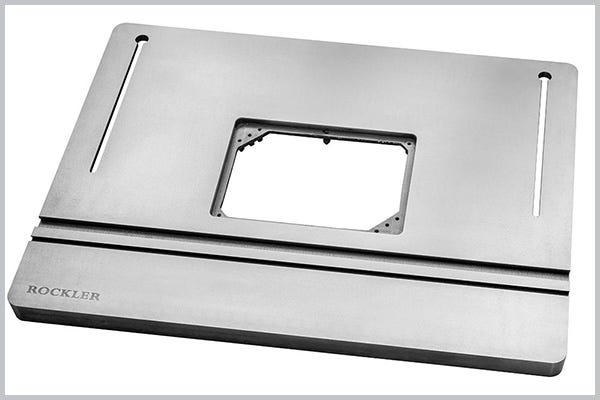 Nothing beats the ProMax Cast Iron Router Table Top when it comes to a sag-free, dead flat surface and reliable performance year in and year out. A one-piece top weighing in at over 50 pounds and measuring a full 32" wide, it provides vibration-dampening heft for the smoothest possible cuts. Spin the largest bits your plate and router can accept—the table won't bat an eye. Premium features include a 10-point plate leveling system and pre-tapped holes to accept the included Dado Dust Chute and Steel Cabinet. The 3/4" T-profile miter slot accepts precision aftermarket miter gauges, while accessory T-tracks in both the fence and table accept stops, hold-downs, featherboards and more.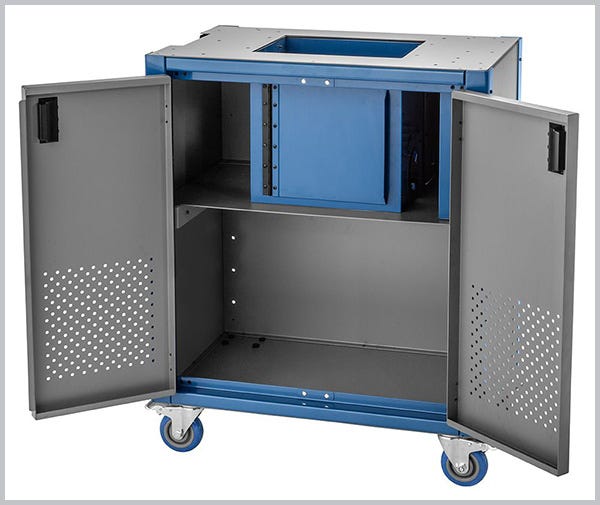 Our Steel Router Table Cabinet hits all the key points for a fine router foundation. The cabinet is made from rugged steel that adds mass and dampens vibration, is incredibly durable, and offers the ability to use magnetic accessories. Add to that a fleet of cool features like our premium dust bucket with a 4" main port and a 2-1/2" port that leads to the fence, smooth-rolling casters that make moving the table a one-finger job, and accommodations for mounting our optional Dado Dust Chute and Power Tool Switch, and you have a router workstation that will become a mainstay of your shop.